Lens-based lights: overview
UPD, Nov 2016: "Far" below is from older setup, when it was used as Far light. Now it is used upside-down as High-beam light.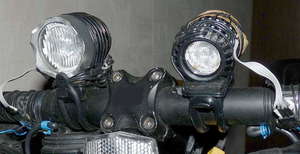 ---
Optics
Optics I used: both LEDs Cree XML (on stars). Both lens Carclo. Far 10755 (30mm, circular beam) + holder 10962. Diffused with an elliptic diffuser. Near 10198 (20mm, oval) + universal holder 10654.
Lens are shifted relative to LEDs - to make the beam vertically asymmetric. At the top there will be sharper cutoff, at the bottom - smoother fade-off. Lens of the Far light is lifted away from the LED's star plane - to make the beam more concentrated - at the price of some power losses.
Simulations from ceiling beamshots, processed in octave. Angular distribution, road projection, 3D-view, all in log scale. Several types of beams.
In a couple of years lens manufacturers should finally start producing lenses specifically for road ahead illumination. I will definitely upgrade once such lenses appear in wide selections (and if the certain Russian czar doesn't nuke the world by that time).
---
Housing
A standard plastic mount (Magic-Shine-type) with a rubber ring is used to mount the headlights. It gives mobility and freedom: it's easy to demount it and put in a backpack, use on several bikes, or use as 2 independent (though awkward) flashlights. Housing and the mount are wired together, with a rubber pad in between.
Lens mount. It turns out that one can first conveniently and accurately position the lens relative to the LED, getting the beam you want, and then conveniently fasten everything inside the housing.
PCB mount. Good heat transfer from linear regulators to outside. Controller is pressed against the housing pill for LED temperature measurements.
External buttons are enhanced a little, SMD-info-LEDs and connectors are soldered to cut pieces of old PCBs.
More on external buttons etc.